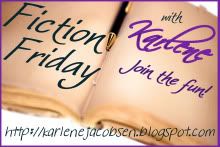 Fiction Friday is hosted by
Sara @
Fiction Fusion
Pop on over for links to great inspirational fiction.
White Paper -- 12-Point Font
by Beth LaBuff

A bungalow on Jackson Street
Was painted spinach green,
The home of fabled Chef McKnight,
Famed for seafood cuisine.
The Chef was "Auntie" to three boys
Lads -- Nate, young Paul, and Dwight,
Who often would a weekend spend
With her, to her delight.
The chef compiled sizzling books,
Volumes of recipes,
That utilized ingredients
Like Brie and Cottage Cheese.
The latest cookbook she composed
Was called
"Scottish Cuisine,"

Had recipes like
Cullen Skink
And
Mussels Aberdeen.
Her manuscript met guidelines
With careful preparation,
White paper – type - a 12-point font—
Exact specification.
One final task— the recipes
Awaited her revision,
Amount of each ingredient
Required strict precision.
That weekend, at her bungalow
Her nephews came to stay,
Before her final edits,
She sent them out to play.
They toted all their baseball gear,
To an adjacent lot,
But Nate ran back inside the house
'Cause home plate—they forgot.
With Nate back out, she locked the door,
Searched for her manuscript,
But it was nowhere to be found,
It caused her heart to flip.
She searched all through her bungalow
Went up the stairs, then down,
She wasted forty minutes,
With her looking-all-around.
Her nephews, in the meantime,
Played a lively game of ball.
And Nate shagged flies at short-stop.
The ball was pitched by Paul.
A pop-up fly flew over Paul
And then sailed over Nate,
Then Dwight raced 'round the bases
And slid into home plate.
To celebrate his homerun
Dwight jumped into the air,
Then did a stomp dance on home plate,
Left sneaker footprints there.
Then Paul threw out a curve ball
A whiff and miss by Nate.
To let out his aggression.
He walloped on home plate.
And though the nephews never asked,
Or
meant
to desecrate—
Her manuscript--conscripted
Into service as home plate.
White paper and the 12-point font
Went unobserved by Dwight,
Then page 18 escaped its bonds,
A breeze propelled its flight.
It floated o'er their baseball game
It drifted high then low,
Then page 18 did loop-d-loops
Over the bungalow.
Though Paul had hit a home run,
'Twas almost caught by Nate,
Oblivious the boys were when
The page escaped
home plate.
Then hunger in their stomachs
Eclipsed their game so that
Back to the bungalow they trudged
With
home plate
, ball, and bat.
They threw their gear upon the floor,
Their Auntie was dismayed
Until she saw her manuscript
Intact, though a bit frayed.
White pages appeared dog-eared,
The 12-point font withstood
The brunt of energetic boys
Who gave it all they could.
Then Chef McKnight without delay,
The envelope addressed
And sent her cookbook manuscript
Posthaste to
Cookbook Press
.
***
The critic for
Food Magazine
Reviewed
Scottish Cuisine
,
"A treasury of ethnic foods,
Like rich
Newhaven Cream
.
Ingredients were missing, though,
At least that's how it seemed,
There was no call for mussels in
The
Mussels Aberdeen
.
written for a
FaithWriters.com
writing challenge
© May 2010 -- Beth LaBuff
Topic: The Manuscript

inspiration:
Proverbs 17:22
A merry heart doeth good like a medicine… KJV