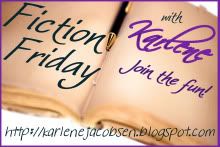 Friday Fiction is hosted this week by
Christina Banks @
With Pen in Hand
Be sure to head over for links to more great fiction,
or add a link to your own.

Phantom of the Reptile
by Beth LaBuff

A seashore near the ocean where
The breakers scattered foam,
A turtle dwelt with two small friends—
The sandy beach their home.
"Benevolence"—their motto,
A Marine Society
Of turtle, clam, and hermit crab—
Companions by the sea.
The turtle's shell – beguiling—
Chartreuse with flecks of puce,
But flawed, she had a seal-leak,
Her shell, a trifle loose.
Her leak issues let in a draft
When ocean breezes blew,
The gusts that wafted 'round felt like
El Niño coming through.
Just two weeks past the little group
Ceased daily occupation,
They gathered with the turtle for
Her birthday celebration.
They all partook of birthday cake—
Some kelp steeped in sea brine,
To celebrate her sixty years.
(In turtle years, that's nine.)
The turtle then proceeded to
Unwrap her gifts as planned.
The clam presented turtle with
A coarse brown grain of sand.
The sentiment read, "Keep this sand
Positioned near your heart,
In time your irritations change—
A pearled work of art.
Inside her shell she tucked the sand,
Though contact wasn't pleasant.
Then hermit crab, with shifty eyes
Presented her his present.
To her surprise the second gift
Opened that afternoon,
A shiny sleek harmonica
To play a turtle tune.
With cake and presents finished,
They bid each one farewell.
Two special gifts from two rare friends
Were tucked within her shell.
'Twas later on that evening
She basked in ocean's breeze,
Then noise issued within her shell,
A harsh and jarring wheeze.
It gave the turtle such a fright
A rasp sprang from her beak,
It sounded somewhat like a "Phbiss!"
That's turtle-speak for "Eek!"
Well mercy me! the turtle thought.
Her turtle eyes grew wide.
She bravely sought the noise's source,
She pulled her head inside.
The jarring, wheezing dissonance,
Refusing to be quelled,
Chords ebbed and flowed around inside
And echoed in her shell.
The discord and cacophony
Had left the turtle daunted.
And in her mind she was convinced
Her turtle shell was haunted!
Her head and turtleneck popped out
For what was she to do?
Her quandary was astounding,
Put her in a turtle stew.
Afraid to tuck her head inside
Where once it used to dwell,
She thought perhaps she'd hire one
To exorcise her shell.
A fortnight since her birthday,
And two weeks since she'd slept,
She had a plan to use the clam.
Herself— she was inept.
The clam, squeezed in her turtle shell
Armed with a D-Cell light,
He hoped to find the origin
Of turtle's awful plight.
Then what he found inside her shell,
The noise secret—unlocked.
He couldn't wait to tell her,
Was sure she'd be shell-shocked—
'Twas through her leaky turtle shell
When wafted airy breeze,
It blew through her harmonica
And made the breathy wheeze.
The hermit crab confessed his scheme,
He'd coveted her shell.
He hoped she would evacuate,
Give him a place to dwell.
The turtle, though a trifle mad,
Revenge did not demand.
To show 'twas no hard feelings,
Gave him her grain of sand.
Benevolent Society—
Was weighed—found to be wanting.
The hermit crab, sand in his shell,
Still for a new one—hunting.
***
Thou
shell
not covet thy neighbor's house.
Exodus 20:17
(paraphrase and emphasis mine)
written for a
FaithWriters.com
writing Challenge
Topic: "Eek!"
© Beth LaBuff -- March 2010